Train Daily with Tim Mack
at SPIRE Academy while also taking all your high school required classes!
Spire Academy Highlights
SPIRE Academy is located within a world class sports complex and high school academy. Training is offered within long- and short- term programs, with both a day school and a boarding school to meet a variety of students' needs.
Training is delivered in multiple sports and specialty disciplines, and via long term athletic development training.
Performance training on site supplements core training with an emphasis on physical conditioning, mental skills training and nutrition/hydration guidance.
Education is offered on campus, currently to grades 9-12. The academic experience at SPIRE is an offered as an approved, accredited extension of nearby Grand River Academy. The college prep curriculum is cross-discipline and built on a project based experiential model that meets the needs of multiple types of learners.
Training highlights:
Coaching at every competition and every practice with Coach Mack
Never miss a workout with our indoor and outdoor training facilities
Mental Training each week
Gymnastic sessions with Coach Mack
Athletic Trainer on site
Recovery sessions daily
Travel to many meets all over Ohio and the USA. NY for New Balance, Texas for Texas Relays, and Eugene for nationals!
Video review sessions 2x/week and after each jump in training with Coach Mack
Connections through our coaching staff to IVY league/major D1, D2, D3 schools
College Planning/prep advising sessions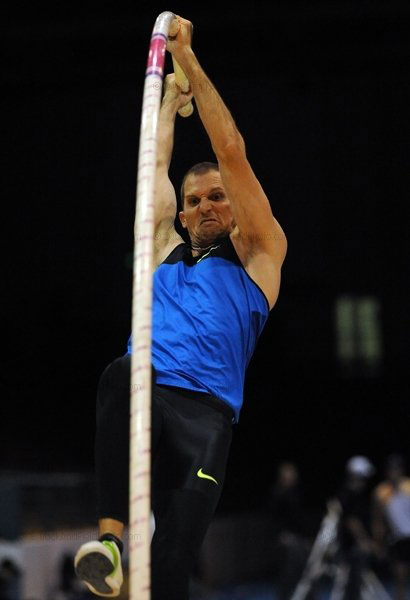 Tim Mack - Pole Vaulter
2004 Olympic Gold Medalist
In Athens, Greece in 2004, Tim jumped 19'6 1/4"(5.95m) for Olympic Gold. The jump was for an Olympic Record, a personal best and he cleared it on his 3rd attempt. You can see his winning jump in the below videos.
Learn how Tim set his goals, how he trained his mind for success, learned from his many failures, how he faced his fears and how he maintained his motivation. Hear how Tim could not have made the journey a success if not for the many people that he had in his life. Discover how there is always hope, and that your biggest dreams can often be a reality when you put forth consistent effort.
Visit the Spire Academy for available track and field camps. Tim Mack will be coaching the pole vaulting camps.