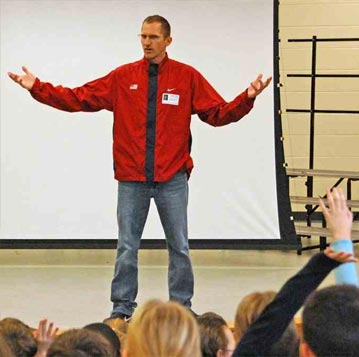 Speaking Engagements
What you get if you choose Tim Mack for your public speaking engagement.
Tim tells of his four-year journey leading up to winning the Olympic Games in 2004. He gives the audience detailed accounts of what laid the foundation for success in his early years through college. Through the vessel of being a pole-vaulter, Tim gives the audience a first-hand account of how he transformed himself, in that time, and what it really means to work hard, be determined, and have a relentless will.
He tells of how he set his goals, how he trained his mind for success, learned from his many failures, how he faced his fears and how he maintained his motivation. He also tells of how he could not have made the journey a success if not for the many people that he had in his life.
The audience will hear stories like how Tim used the email address goldnathens@aol.com for the four years leading up to the Olympics. How he would motivate himself by looking himself in the mirror saying "You are the best pole-vaulter to ever live," even when he wasn't. How Tim confronted his fear that even though he dedicated 4 years in making the Olympic Team, there was a chance that he wouldn't make it. How Tim had to train mostly on his own for those four years and how he designed all of his own training programs.
The audience will be amazed at the detail in which Tim describes how he used the above factors to narrow the gap between him and his competition. Tim really tries to put the audience in his shoes with both his description of events as well as with his accompanying Powerpoint display. The audience will take away that there is always hope and that their biggest dreams can be a reality if only they put forth the effort.
Email Tim if you would like to book an event or if you would like to see his speaking fees.